The N3TC Royal Drak MTB Challenge has an awesome vibe. It starts early in the week as everybody gets sucked into the last minute trail preparations and marking missions. By the time Friday rolls around and the bicycle laden cars come pouring into the valley, you can almost taste the excitement. Even the weather got involved this year, with lovely soft rain in the week leading up to the race, and then beautiful bright sunshine on race day. The conditions were perfect….
The racing was fast! The 50km Extreme Classic is always a proper undertaking, with its 7km climb right off the bat and no recovery kilometers. In a world where so much is about comfort and convenience, it's really inspiring to see these riders relish the challenge of this race. The first rider back was Gareth Cooke in a time of 2:30:38, hotly pursued by Klaas Meintjies in 2:39:44 and Lance Chapman in 2:40:34. We are also thrilled by the awesome results of the young riders in this race – 5th and 8th overall were Christiaan Van Dyk and Torin Mecklenborg, both of whom are Under 18s. The first lady home was Andrea De Boer in 3:09:16, followed by Sarah Drew in 3:12:31 and Daniella Lehav in 3:32:01.
The Montusi Mountain Lodge Intermediate race this year was extended to 30km, making it a marvellous challenge for those who find the 50 too daunting, but still want a worthwhile ride. Once again the young riders showed their talent, with PJ Kruger (Youth age group) coming in first overall in a time of 1:13:56. The first lady home was Camilla Mol in 1:47:25, and the first 12 and under rider was Noah Bedingham in 2:11:27. Really impressive results.
The Cavern Drakensberg Resort 10km Fun Ride is our very best event. We get such a kick out of seeing the determined little riders lining up at the start. The route is not easy – it's all single track, and as we are IN the mountains, there is precious little flat terrain. Despite this, the kids get stuck in, and all finish with very little complaining. No doubt the sweets and treats at the Cavern's midway water table help a lot! The first rider home this year was Xander Bakker in a time of 33:24. Xander was in the under 12 age group, proving again what a strong field of young riders we were fortunate to host. The first under 12 girl home was Grace Hoatson, in a time of 40:06. We were also really tickled to have Jean Pierre Ten Napel, winner of our 2011 Classic, complete the 10km with his family – complete with little daughter in the back pack!
All proceeds from the weekend go to the Royal Drakensberg Primary school, and this year for the first time we added a "Ride4Education" category. Here riders each raised R2500 in additional sponsorship for the school, and were recognised with a special Ride4Education jersey, and access to the awesome Ride4Eduction hospitality tent. In the tent they enjoyed snacks, drinks and a delicious spit braai. We are very grateful to aha Alpine Heath Resort for sponsoring the jerseys, meals and refreshments.
As always, All Out Adventures made for an awesome venue, with coffee and bacon and egg rolls on the go from first light, and no shortage of activities for the spectators. It was especially festive this year with Haibike and Volcan Mountain Bikes joining in the fun. Haibike brought along a pedal assit e-bike to demo. This bike comes complete with a 360v 250 watt Yamaha motor – no doubt some of those 50km riders were wishing for one on the Greenfire hill! Spectators and riders enjoyed test riding this bike until well into the afternoon. Check it out at www.haibike.com Volcan contributed to our fund raising efforts in a huge way by raffling a stunning Volcan mountain bike. There was much anticipation surrounding this, and the winner, Karl de Klerk from Harrismith, was most chuffed with his prize.
Speaking of prizes, there are never any shortages at the Royal Drak. We are so grateful to all our prize sponsors -awesome hampers, Funky Pants, Tower of Pizza vouchers and weekends away from The Cavern, Montusi and aha Alpine Heath, and not forgetting our trademark potatoes for all the podium placers from Sesisonke Farming!
Big thanks must also go to our incredibly generous sponsors – N3TC, aha Alpine Heath, Montusi Mountain Lodge, The Cavern and Action Coach. (Click here to book your free business coaching session.) Their financial, logistical and moral support combines to make a truly memorable day of all our riders.
We appreciate our landowner's generosity in allowing us to access the trails through their properties. Their unwavering support ensures we can ride this pristine valley! We would also like to thank our T-shirt, goodie bag and product sponsors who all contribute to making the experience really special too.
The love and enthusiasm for the cause that underlies this event is always abundantly evident on race day. The amazing sense of being part of something bigger brings everyone together, and it's a real privilege to be a part of it. We are so thankful to all the riders for being part of this wonderful weekend, and we look forward to seeing you in 2017.
Keep an eye on Facebook and the website for details.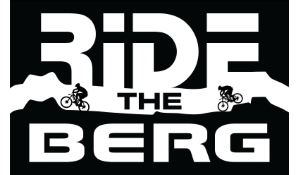 P.S. If you loved the single track, don't forget to register for Ridetheberg taking place at All Out Adventures 25 & 26 June 2016.
---