Dear Friends
Term 1 has come and gone. Just 9 weeks but filled with wonderful activity and learning. We welcomed Mary Campbell to Grade 1 and Irene Mkhulisi to our team and under the careful guidance of Mrs Sue Kraupner we continue to see wonderful progress.
We share a few happy happenings from Term 1 below.
---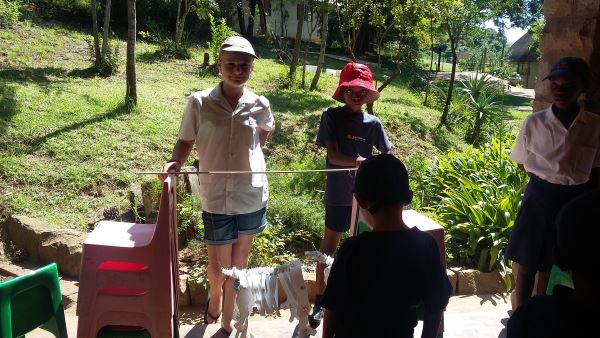 Natural Science with Marianne Hohls
This year's grade 4 and 5 learners have had a very exciting term with regard to their Natural Science project. Throughout the term they learned the theory surrounding various types of skeletons and their role as frame structures in the body. They were then given the task to create any vertebrate skeleton using anything they thought would work. They had free reign with their projects, as long as the end result was a model of a vertebrate skeleton that was able to move at the joints. The learners' creativity definitely shone through and the end result was beautiful models of human, fish, snake and even rhinoceros skeletons. The learners first presented their skeletons to the teacher and their class and then they had the opportunity to 'show-off' their amazing models to the rest of the school. Everyone thoroughly enjoyed this project and the learners are already wondering what the next amazing science project will be.
---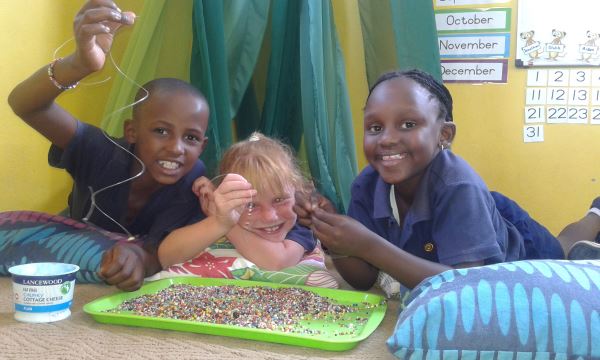 Learning about Economic Management Science is FUN with Mary Campbell
This term the grade 2 to 5 children at Royal Drakensberg Primary School have had a lot of fun during EMS lessons. The children have come up with lots of great ideas and have worked very hard to produce some excellent beaded products to sell. The grade 2 and 3 classes made beautiful beaded necklaces and bracelets. They worked well in groups to create their finished products. The grade 3 children also made key chains using old buttons. Grade 4 and 5 children learned about the importance of letter writing as a form of correspondence. They wrote letters to some of the neighbouring businesses appealing to them to sell our products. They also made pairs of unique button earrings. This has been a busy and productive term and we look forward to creating many more exciting crafts.
---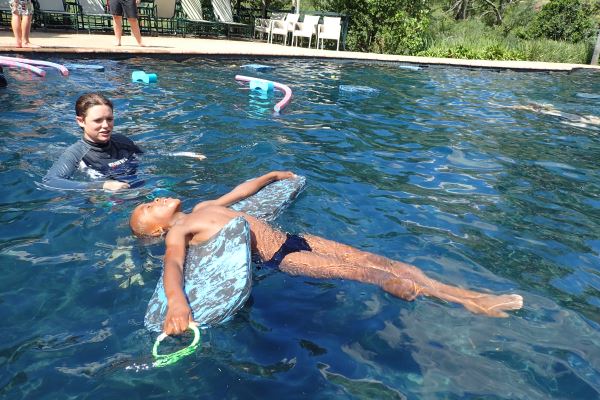 Swimming during Summertime – Judy Evans
The teachers kick-started the year with a swimming workshop which gave us some handy tips and ideas on how to get our learners to become water safe. All children from grade 1 – grade 5 walk up to The Cavern swimming pool once a week for the much awaited swimming lesson. The children have progressed hugely throughout the term and are becoming confident swimmers. We started off with a lesson on getting in and out the pool safely followed by floating and blowing bubbles. Most children will now happily put their faces under the water and are swimming with less and less floating devices as the weeks progress. It has been wonderful to watch their confidence grow and we have no doubt that this improvement will continue throughout the swimming season. It is a wonderful opportunity for these children to learn to swim and the teachers are very proud of the progress they are making each week.
---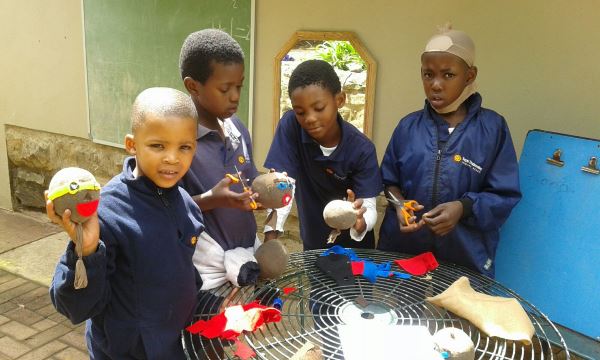 Outdoor Challenges in the Great Outdoors – Melanie Roux
On Friday, 11 March, the children at RDP had loads of fun! The grade 4 and 5s went for a horse ride or zip line at All Out Adventures. The rest of the school children were split up into groups of nine or ten. The grade 3s were very responsible taking care of the little ones in their group. There were many fun activities such as bird watching, green fingers (planting!), happy horse, camping fun, river rafting and forest adventure. Some children went to look for all the lovely birds in our environment, others learned how to plant seeds. One group went on pony rides while others built a tent and got to braai some tasty marshmallows. Then there was a group who had an exciting boat ride and another group who had an interesting walk through our beautiful forest. The morning ended with a popcorn picnic which was enjoyed by all!
---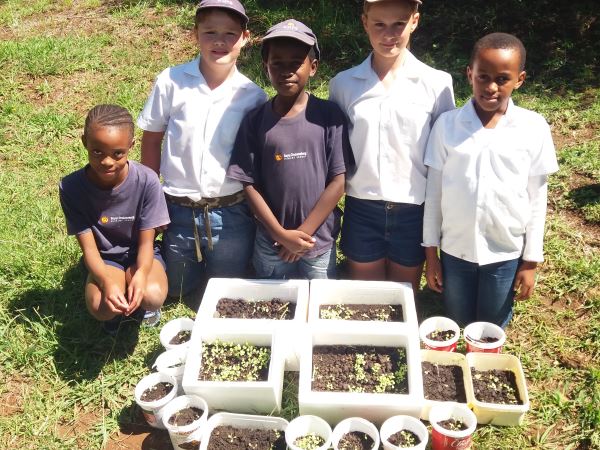 Environmental Studies with Kevin Mackenzie
The Elephant class has started this year's environmental project with great enthusiasm. The grade 5s are in charge of recording the daily rainfall and river flow, while the grade 4s are recording the daily temperature highs and lows. The Elephant class has started to grow their own vegetables by planting seeds and are currently waiting for the seedlings to grow before planting them out in a beautiful vegetable garden. In addition to this, the class has conducted three separate tests in the local river and have documented the results that point to a very healthy river and environment.
---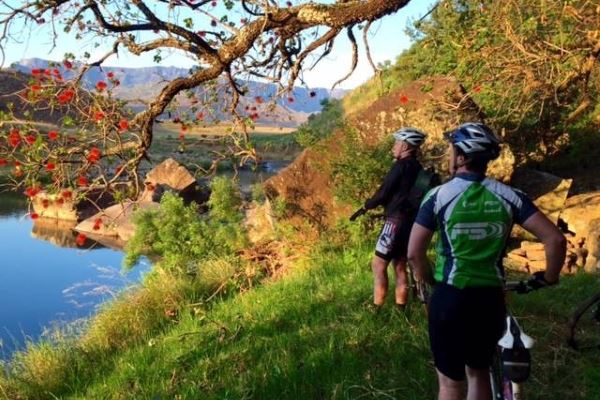 Royal Drakensberg MTB Ride – #Ride4Education – www.royaldrakmtb.co.za
Our Royal Drak MTB Ride is happening on the 9th April. You can simply Race OR you can #Ride4Education. Those that Ride4Education raise R2500 and received the Ride4Education jersey and will get a refreshment from the Ride4Education Tent. Many thanks to Alpine Heath who are our Ride4Education sponsor. All proceeds go to our school.
---
MySchool – Support Royal Drakensberg Primary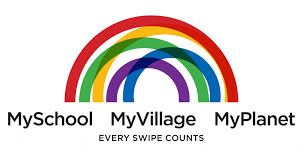 My SchoolRoyal Drakensberg has been part of the Woolworth's MySchool project for a number of years. Many folk have signed up and on average we receive about R800 which makes a super contribution to our funds. We have just entered a competition and would love to see more folk nominate our school as their beneficiary and then swipe, swipe, swipe… It costs nothing extra and it's just one simple swipe which directs a little something to us in the berg! For more details use the button:
---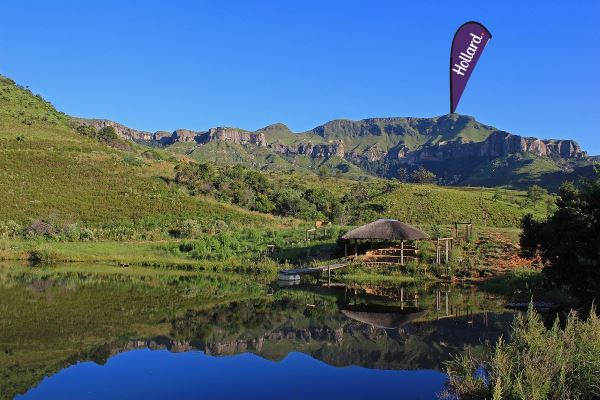 Our second fundraiser happens in May and we have 75 hikers confirmed for this awesome weekend event. Each hiker pledges to raise R5500 for Education and proceeds go to the Royal Drakensberg Education Trust. Each peak is up for grabs and so far Hollard has claimed Hlolela and Dezzo Roofing has their stake on the Battleship. R20 000 means the peak is yours for the year. Email us if you are keen to join this great initiative.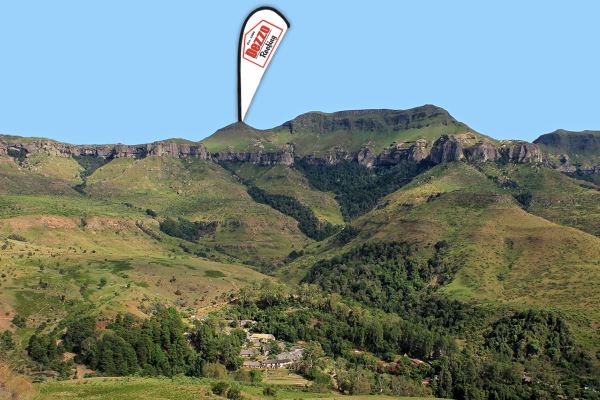 ---
A Final Word
We are so thankful to each and every person that has supported us this term. The encouragement from guest popping in, to the friends giving of their time and helping grow our team; the fantastic donations of goodies from books to pencils to outdoor equipment; and to our financial partners who help ensure that we keep this wonderful school and our dedicated team of teachers inspired and hard at work in this special piece of SA. Here's to growing a great future!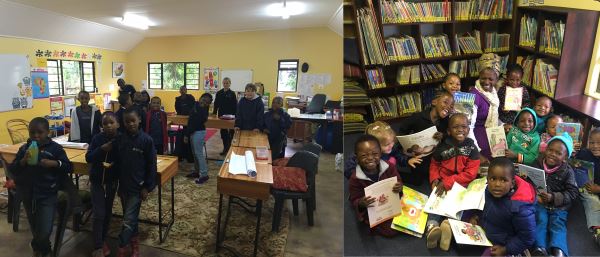 May this Easter Sunday inspire you to new hope, happiness, prosperity and abundance… Enjoy the chocolate treats and be safe on our busy roads.
With best wishes,
Megan & Loretta