Dear Friends
It's midyear, the temperatures have dropped and the mountainside has changed to subtle tones of brown and orange. It's a particularly lovely time in the berg because the days are filled with soft sunshine and hiking and mountain biking are fantastic in these conditions. We have even had a little dusting of snow on the peaks surrounding our school and this is a real South African highlight!
Since our last newsletter we have hosted our two important fundraisers, Royal Drakensberg MTB Challenge and the Big5Hike. Our school term ended with our Winter Wonderland soccer fest with all the children championing for their teams and so we share our news with you…
---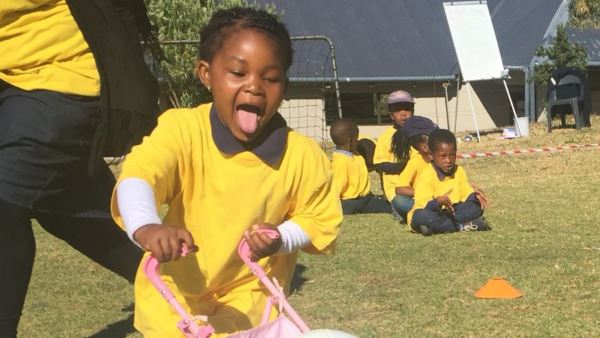 Winter Wonderland – Idah Khumalo
Bright and early on the last day of school for the second term, there was an excitement in the air that could be felt by all present at our school. This was the day everyone had been practising for: Winter Wonderland! The day of the big soccer tournament. Throughout the term, the learners have all been honing their soccer skills in order to play their best game for their respective teams. The learners all played their little hearts out and in the end the red Bushbuck team emerged victorious. All learners had a great time and displayed wonderful team spirit.
---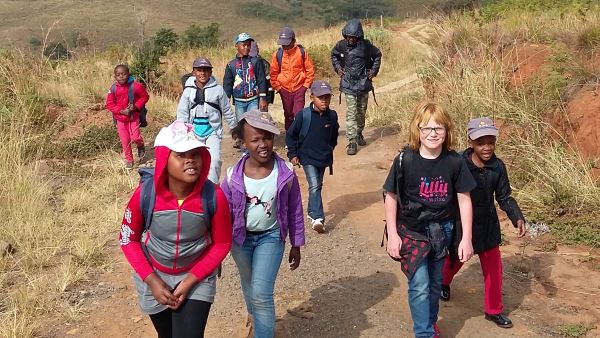 Sungubala Outing – Marianne Hohls
This term the grade 1, 2 and 3 classes were given the amazing opportunity to attend a sleepover camp at Sungubala Eco Camp. This would be the first time many of them would take part in a school sleepover camp. The teachers and learners set off on their hike up the mountain with a mixture of excitement and nervousness. Once everyone had reached the camp, the learners were split into their groups and shown were they would sleep. The days were well planned and all learners eagerly participated in the activities. A firm favourite among the learners was the exciting treasure hunt where the learners followed clues all over the camp which eventually led them to a delicious cupcake prize. The learners and the teachers loved the camp and would like to thank Sungubala Eco Camp for allowing the sleepover to take place there.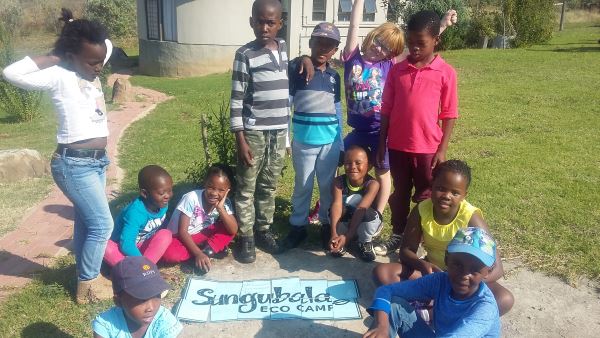 ---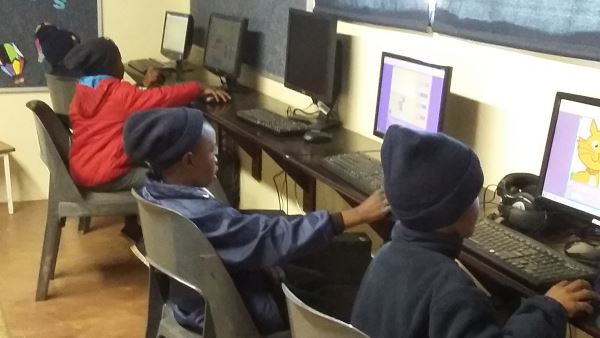 Media Room – Irene Sibeko
Members of the Royal Drakensberg Primary School family have used a small classroom on the premises and turned it into a media centre. This media centre contains all the school readers, which are split into their reading levels. There are also 5 computers, which are all connected to the Internet and may be used by the learners under supervision of their class teacher. The media centre also has a TV, which is used to show educational documentaries or films. The learners use the media centre every day to pick a new book to read at home. The children and teachers love this centre. We are all very grateful to have this marvellous room at our disposal and would like to thank Tony and Liesje Carter, who were instrumental in having this room set up for us.
---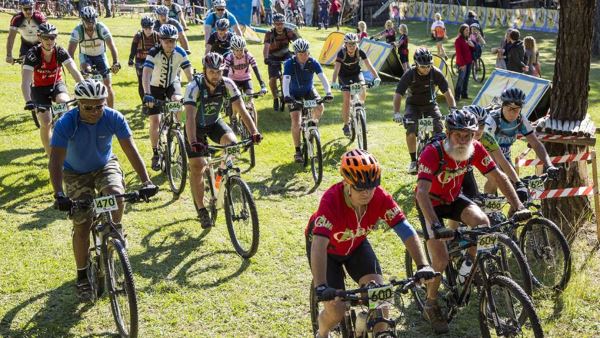 Royal Drakensberg MTB Challenge – #Ride4Education – Judy Evans
The 2016 Mountain bike challenge was held at the beginning of April. We had an exciting new addition to the race where participants could opt to #ride4education. In order to partake in the ride 4 education category, riders needed to raise R2500 for our school. They were then given an exclusive cycling jersey and were treated as VIPs on race day with special thanks to Alpine Heath who hosted the refreshment tent. The race ran smoothly and many people showed their support by participating in either 50km, 30km or 10km races. It was great to see so many families out on the tracks keeping fit and having fun together. The staff of Royal Drakensberg Primary School hosted the children in the very popular Kidszone. The children got involved in the many activities available. They loved the face painting, the sand art as well as the crafts such as Marie Biscuit faces and beading. We thank Bergville Spar for donating the items needed to make the Kidszone a success. It was a great day out and fun was had by all!
Grateful thanks to:
The landowners in our valley, All Out Adventures, Alpine Heath, Montusi Mountain Lodge, The Cavern, SPAR, Build-It, Squirt Bio-Bike, Action Coach, MSC Agencies, Private Property, Bidvest, Big Sky Marketing, Sungubala Eco-Camp, N3TC, Country Life
Read more in our Race Report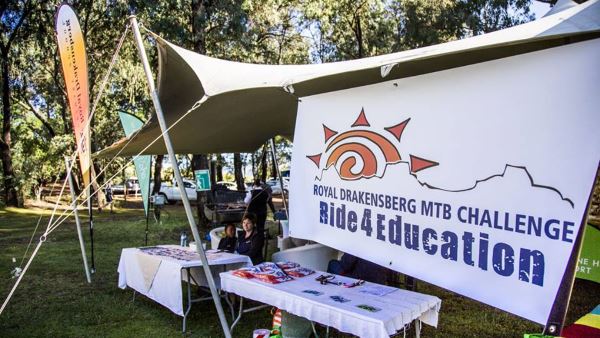 ---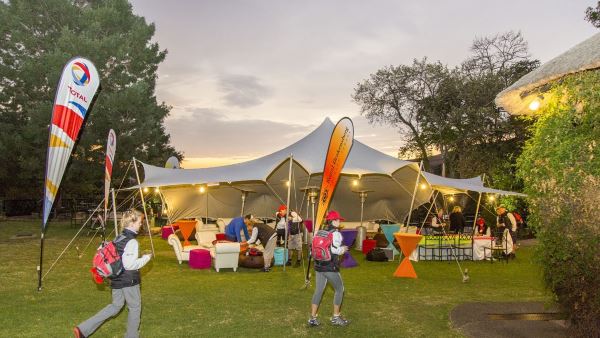 The Big5Hike – #Walking4Education – Megan Bedingham
On the 14th May we were joined by 75 adult hikers and 15 children for our annual Big 5 Hike. It was a fully subscribed challenge and this fantastic participation meant we needed many Sherpas to get all the refreshment goodies to the right places! We are very grateful to our Royal Drak teaching staff and our Cavern team for the wonderful support. The first stop was the Harrismith Mugg & Bean coffee station at Rustler's Gap which was welcome relief after the first pull. The batches (4 of them, departing at 45 minute intervals) then had the heavy climb through Scilla Gulley to get to the top of Hollard Hlolela. From there it was across to the roof-top of the Big5Hike, Dezzo Battleship. The legs and creaking knees began feeling the climb as we descended to the Sparkles Sweet and Treats stop at the base of Sugar Loaf. After Sugar Loaf we climbed Cold Hill followed by a steep decline through the Devil's Staircase and then down Cavern Gap and into Cannibal Cavern for an amazing picnic lunch. Our thanks go once again to Mugg & Bean Harrismith who supplied the tasty sandwiches and VDP who helped arrange 20 bottles of bubbles to celebrate the day. We had an extended lunch thanks to the thunder and lightning and huddled around fires eating fruit cake and drinking hot tea & coffee before attempting the final summit. As the back group approached Surprise Ridge, the weather blew in, and the lightning threatened, so it was decided that we'd all descend quickly. There are always a few die-hards who just couldn't not do the Camel and so off they went, up Archie's Camels Hump and then down fast for the most super welcome home party thanks to Total Gateway. Fantastic snacks, a delicious keg of Notties beer and wines supplied by Vinimark! It was an incredibly successful day. We are so grateful to all our sponsors who together with our wonderful team of hikers managed to raise in excess of R720 000.
Huge thanks to:
Total Gateway, Melville Douglas, Clucas Gray, Hollard, Dezzo Roofing, Charles Teversham, Total SA, Colenbrander, Mugg & Bean Harrismith, Sparkles Sweets & Treats Harrismith, VDP Distributors, Vinimark, Meridian Wine Merchants, Dermalogica, Big Sky Marketing, Grant Pitcher, Postboxx, Drakensberg Draping, Luma-Inc, Nottingham Road Brewery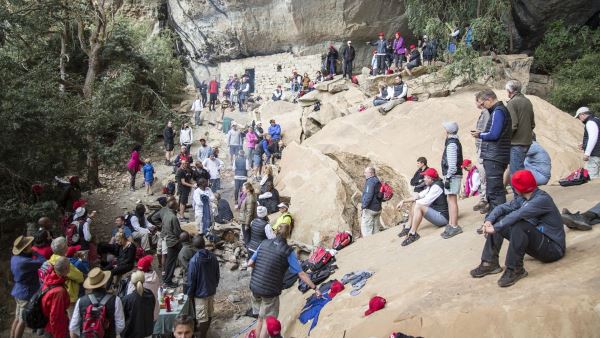 ---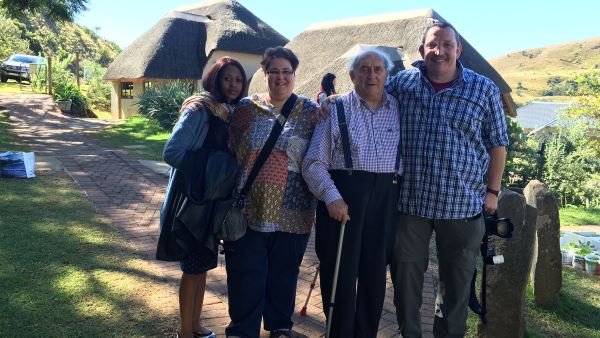 Share for Life – Megan Bedingham
We were very lucky to meet Uli & Christina Strohm a good few years ago when they first holidayed at Montusi Mountain Lodge. Uli & Christina head up the Share for Life NGO in Germany, they are passionate about SA and her people, and together with wonderful support they are able to assist our school in a number of different ways. This year they brought their friend, Denis Goldberg, for a visit. Denis was a Rivonia trialist with Nelson Mandela and he spent a morning with us at school sharing stories of his life. The children were given time to ask questions; How old are you Mr Goldberg? How long were you in prison? Was Nelson Mandela your friend? Why did Mr Mandela get divorced? Did you go to school together? It was an incredibly special morning spending time with someone who gave up his freedom to stand up for what was right. He couldn't sit and watch what was happening under the apartheid rule and his words inspired us all. The stories and tales gave us a small glimpse into the life of a man who fought for our freedom and reminded us of the importance in preserving it. What an honour it was to welcome him to our remote little school in the mountains and we are so thankful to Christina & Uli for sharing once more with us! We learn and learn and learn some more….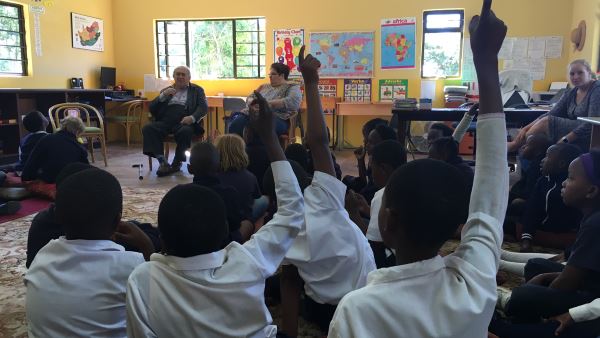 ---
Final Word
Life is an incredible journey – ups, downs, all-fall-downs and then a little soaring in-between. The school has taken us all on a journey of real discovery and as we travel we come into contact with the most amazing people who somehow seem to arrive just when we need them! At times we've had to dig very deep as we've wobbled along but we have remained committed to the children, knowing that perseverance is key. 2016 is the 10th year of this journey. When we look back at our very small and somewhat self serving beginnings, we are humbled by what has grown through the love and support of this Royal Drakensberg community. This gives us amazing hope for the future…
This year's fund raising efforts have helped us establish a savings for the future, and we look forward to continuing to provide not just an education, but a safe and nurturing space for these precious children to thrive. Here's to riding and hiking 4 education in 2017.
With our best wishes to you all,
Megan & Loretta