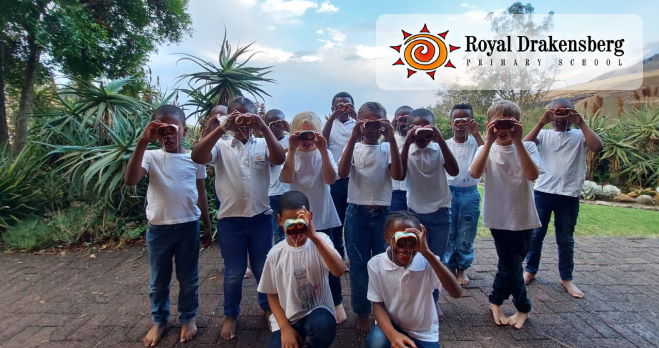 The Royal Showcase 2022 – Britt Houghting
There is something magical about performing. Most people find it intimidating and scary and yet, standing on that stage, our learners showed courage, enthusiasm and absolute enjoyment. For the past two terms, our Grade 1, 2 and 3 learners have been practicing, learning and perfecting their different pieces to present to their loved ones.
For the Grade 1s, this is their first time performing in the Primary School play and they put their hearts and souls into their poem. They had so much fun and have developed a love for the stage. Their confidence has grown, and they have definitely come out of their shells.
The Grade 2s performed a short scene about animals sneaking out of a zoo to have a party. There was some humour in their piece that they loved sharing with the audience. It also gave them the opportunity to try some lines on their own which is a major accomplishment.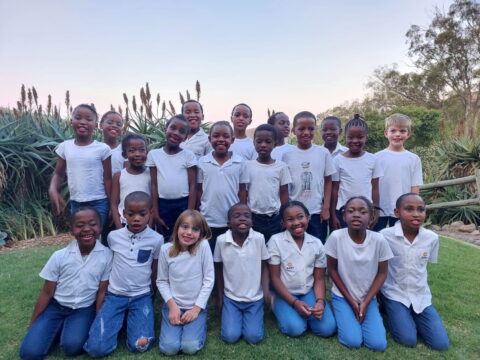 The Grade 3s produced the most incredible scene and their teamwork was something to be proud of. They shared an important story about not judging someone by how they look through the character of a dragon who just wanted to make friends. It was their final chance to be in a play for our school and they grabbed the opportunity with both hands.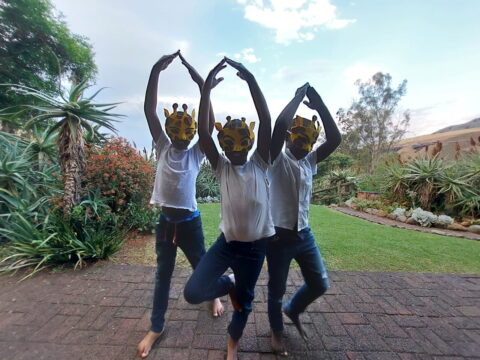 The Showcase was presented over two nights at the Cavern Resort. This gave the learners the chance to show off all their hard work to their friends and family. The air in the games room was electric. Some nervous giggles could be heard from the stage every now and then but once the first song started, the nerves melted away.

We are so proud of what our learners have achieved through this play. Each of them has grown in confidence, excitement and pride. They have seen the importance of practicing and are able to understand how hard work can pay off.
---
The Preschool Farm Outing – Sine Ngobese
On Thursday, 25 August, the Pre School and Grade R set out for a morning of fun at the du Toit's Farm. It was a short drive down the road from our school. When we got there we were warmly welcomed by Sisi Promise, Malume Jabulani, Popo, Qaphela and Mkhululi. Our first stop was at the kraal where we learnt that the delicious stew we ate at home was from these very same cows! We got to name the daddy cow, mommy cow and baby cow- the learners aced this as we had been learning about farm animals in class.
After our short talk on cows we walked over to the main farmhouse whilst singing our own rendition of Old MacDonald Had A Farm – Mkhul' Johan wayeneplazi. Before we even got a chance to settle down and relax before it was time for our games. As we arrived Gogo Ntombi was already outside waiting for us with her delicious vetkoeks ready to treat us to a lovely snack!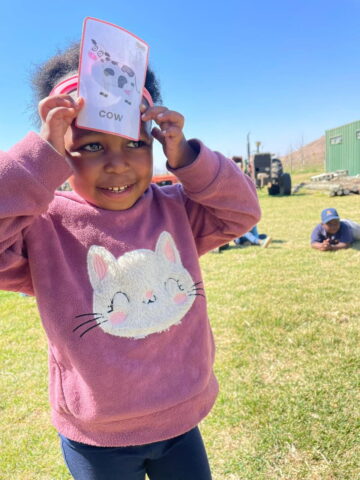 The Malumes were kind enough to take every single child on a horse ride around the house. Some could not hold their excitement upon seeing the horses and some had to be given a little nudge to brave it out and go on the horseback. There were little squeals of pride at the end of each ride as some got off, beaming with excitement and pride of what they have accomplished. At the end, Ma'am Idah decided to show us how it's done and rode a horse without help. The children could not believe it!
Just as we thought we were done, Sisi Promise called us over for lunch in the garden where she had braai'ed boerewors for us along with delicious treats and juice. There was so much food that we took some of our treats with home.
We are thankful to the du Toit's for such a fun day, full of learning and eating, eating, eating…
---
Teacher Corner with Thobani Ndlovu
We welcomed Thobani during Term 3 taking on the role of head of school and taking on the challenges and excitement that is the Khanyisela Project and BabyBoost in the greater AmaZizi community. I spent some time chatting to him, allowing us all to get to know him as he joins us on this wonderful journey at RDPS.
What is your favourite time of the year?
My favourite time of the year is Spring and Summer. I enjoy the colours of the blooming plants, the fragrance in the air and the sounds made by the different birds. It just feels like life in high definition.
If you have to choose a super power, what would it be and why?
A super power I would choose would be to teleport. Sometimes I do enjoy the destination more than the journey. Getting there quicker would be a real plus as I would have more time to spend in places rather than spending it in transit.
Where is your dream holiday destination?
My dream holiday destination has to be somewhere warm and with water. I would love to visit Zanzibar as they seem to have such beautiful weather and waters.
What is your favourite number?
My favourite number is 33, which is the age I turned this year. I have been looking forward to it for a long time! It being the age that Jesus fulfilled his purpose on earth, made me aspire to the same. I had an idea that by this age I would realise and begin to actualise my purpose in life, which would lead to inner joy and peace. This has actually happened as the work I do now feels like such important work and that I am actually at the foot of my purpose! I am humbled by both the number and the age for the significance that it holds.
What was the best memory of your days at school?
My favourite memory is singing in my grade R class. I felt so free and uninhibited. It felt affirming to share the best parts of me without worry or care of how well I did or did not do.
What is your favourite part about being a teacher?
My favourite part of being a teacher is creating a safe space for children to thrive in being fully themselves.
If you have to pick a song that played every time you walked into a room what would it be?
Hero by Mariah Carey. The song from my childhood reminds me each time that it is only us who can save ourselves. If we dig deep enough, we can conquer anything.
Given the chance to meet anyone, past or present, who would it be and why?
This changes often depending on how I am feeling or what I am needing. Right now it would definitely be younger me to tell them that dreams do come true in the future.
What is your favourite meal?
Dumplings! Nothing tastes like home as much as dumplings do.
What three words would you use to describe yourself?
Passionate
Caring
Driven
---
Athletics Day – Nadine Haripersad
Royal Drakensberg Primary School had held our Athletics Day on the 22nd of August, there was a buzz in the air as the excitement of the day unfolded. During the week leading up to the big day, the learners spent some time practicing the races in preparation for the interhouse challenge the day holds as well as the many parents there full of support and love.
On the day, spirits were soaring high from the Bushbucks and the Duikers. We started off with a truly South African song "Shosholoza" to show our spirit! Not only were the learners excited but so were the parents. The parents showed their support by wearing red for Bushbucks or yellow for Duikers in support of their children.
The learners had participated in numerous fun and exciting games such as sack races, dress up relay, water relays, the classic three-legged race and loads more fun games. We had also had our much anticipated tug-of-war for the parents, thank you for showing good sportsmanship and spirit parents! The day was filled with all the war cries and chants by the learners and teachers, the cheers from parents including much laughter and chatter adding to the festivities of the day.
Spirits were still running high but so was the competitive spirit as both learners and parents were anxious about which team would win. Would it be the Bushbucks or the Duikers? As everyone waited patiently and eagerly for the results, Teacher Thoba had done the final calculations. The results were in and the winning team was the Bushbucks! Well done, Bushbucks! The Duikers had also worked so hard and had just missed by a couple points. Thank you for being such great sports. The RDPS team and parents were so proud of both teams!
After all the events, the learners were treated to hotdogs and juice from The Cavern – thank you to The Cavern team. The parents were also provided with tea and sandwiches, thank you to Sam and Winnet for providing us with this. Thank you to all the parents for showing their support for their children and the event!