Dear Family, Friends and Supporters
We have just had the shortest day which means we are half way through our academic year! Time travels and in the meanwhile, we make it count with many fabulous adventures at Royal Drakensberg. Our teachers share a few snippets of news.
---
A bright future for one of our very own RDPS children – Cait Gordon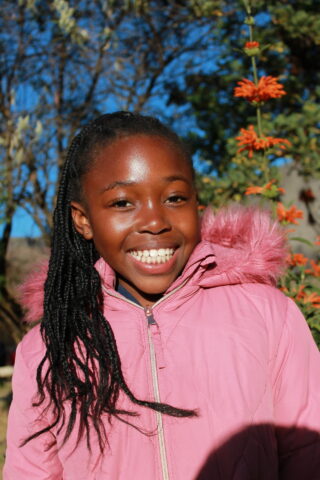 Nokwanda Sibeko, a little girl in grade 3, leaves us at the end of this term to pursue an exciting new adventure. She has been awarded a full scholarship through the Frank Jackson Foundation to attend Clifton Preparatory School in Nottingham Road for the rest of this year until the end of Grade 7, with the possibility of a scholarship to high school. This will be based on her continuing to work hard and produce work of an excellent standard.
Nokwanda will be missed both inside the classroom and on the playground. Her happy demeanour brings a smile to all those around her, with a willingness to help that is always appreciated. I hope she never loses her love of reading, music and embracing who she is as she continues to grow in this new chapter. We look forward to hearing all about the adventures of her new school and look forward to a visit from her.
We wish Nokwanda all the best for the challenges and accomplishments that lie ahead. Remember you will always be a RDPS child, Nokwanda!
---
Teacher Corner with Miss Michelle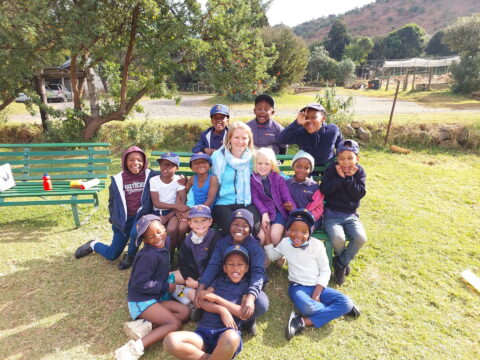 1. What is your first memory from school?
My first day in Grade 1 where I got to decorate my own desk name tags.
2. What song do you know all the lyrics to?
Shotgun by George Ezra
3. If you could have a superpower, what would it be and why?
I would want to read people's minds. This would be quite useful, as I would always be able to know what people are thinking, if they are happy and have a better understanding of how their mind works.
4. What's the best thing about being a teacher?
The best thing about being a teacher is having a front row seat to each child's growth and the warm hugs are awesome too.
5. Which of the five senses would you say is your strongest?
Touch
6. If you had to describe yourself as an animal, which one would it be?
I would describe myself as a dolphin, I love to swim and always have time to have some fun. I love communicating with others and working as a team.
7. What great book have you read recently?
The five love languages for children.
8. What is your favourite childhood memory?
My favourite childhood memory is our big family Christmas on my uncle's farm.
9. Is there a quote or saying that you live your life by?
Life looks like an eternity, but it's a short trip, enjoy it and be kind.
10. What would you do if you had a time machine?
If I had a time machine I would go back and relive my happiest days with the people that are very close to my heart.
---
Big5Hike through the eyes of the children – Cait Gordon
In Grade 3 the Big5 Hike becomes an event to look forward too as the year unfolds. They become more aware of the role this hike plays in their lives and the running of the school. We spent some time writing about the hike and what it means to us and these are some of the amazing pieces that were produced.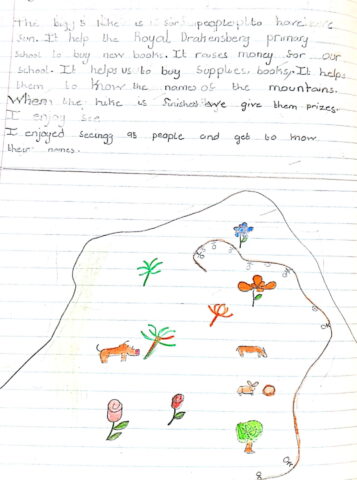 ---
Sqalakahle Pre School visits Royal Drakensberg Primary School – Idah Radebe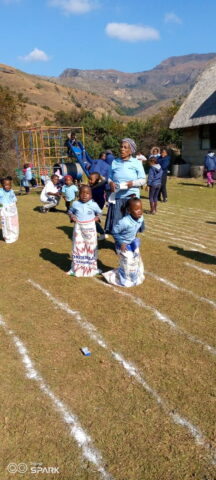 We had Sqalakahle visit us, arriving in a full taxi and venture car full of smiles and excitement for the morning ahead. They entered the gate and Miss Sine welcomed them with kind words and a warm smile. They sang a song called "Hello Hello" as they happily entered our school. They looked so smart wearing their light blue school shirts pointing to show us that they had their names on them. The children ranged from babies to 5 years old, all ready to see what the day had in store for them. They met up with our preschool quickly making friends as they all gathered together to sing some songs and dance together. The RDPS children showed them how to wash and demonstrated such beautiful manners as they waited their turn.
We all enjoyed our snack on the sunny fields before exploring the playground. The children were in awe of all the things they could choose from. The sandpit and slides were an absolute hit with the older children allowing the little ones to climb to their heart's content on the jungle gyms. Team work and sharing was the name of the game when it came to the swings and what a wonder this was to see them all having turns and helping to push each other making sure no-one was left out.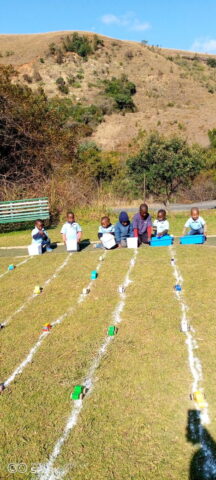 A quick water break before the real activities began, the RDPS teachers had been hard at work with the help of the Grade 3 children to set up a fun morning of races. These included sack races, egg and spoon races, car collecting games and a much more! There was also a relaxed colouring station to recover before the next round of competition began. All Tired out and full of laughter and happiness we all gathered on the field for a lovely story from Miss Sine to end such an exciting day. The time had come to say goodbye as the taxis arrived to get our friends safely back to their school.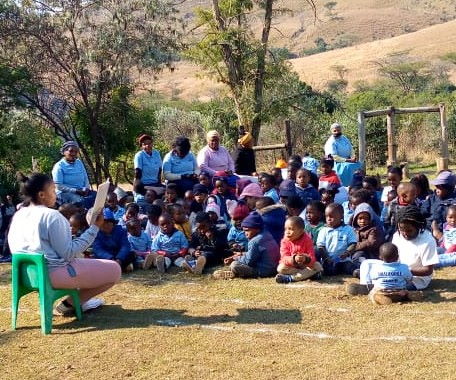 ---
The time has come for us to say goodbye to Mike and Fiona
Picture 11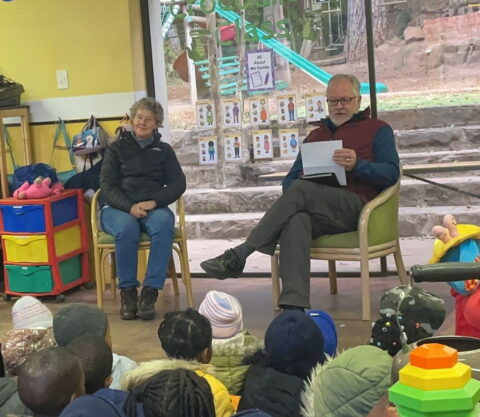 It is only now that we realise how quickly a year goes by. In this short period of time Mkhulu Mike has become the one we call when the ball was too high up in the tree for us to reach or when something needed to be fixed or even for just some tough love. Gogo Fiona, has made sure the ship sails smoothly from sewing smartboard covers for us to making sure we had delicious eats at all our school events.
We are privileged to have had both of them as part of our Royal Drak family. Your hard work and commitment have played a huge role in our school and the broader community. You have been a great helping hand in keeping our vision of transforming rural communities by helping us keep our quality education initiatives alive. Thank you for being our Mkhulu and Gogo. We really appreciate you both.
You will remain in our hearts and prayers, please keep us in yours.
We wish you all the best for your next chapter. This is not a goodbye but a see you later.
---
A final Word
We wish Mike & Fiona all the best as they move out of our valley and start a new chapter. It has been a privilege to work with them and we have seen tremendous growth in our team and the work we continue to grow. Thank you for the guidance, the patience and the leadership. And, we look forward to having Mike remain on our Board as we move into Term 3.
With warm wishes and much appreciation,
Megan & Loretta