Preschool Farm Outing – Sine Ngobese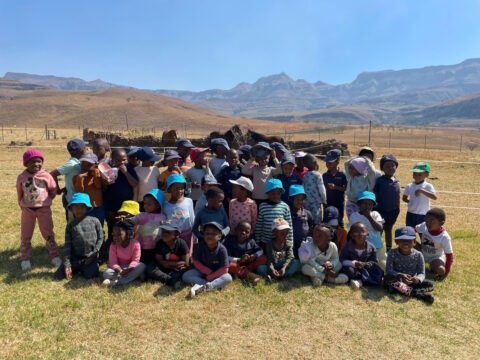 The pre-school children and teachers got to spend a day at the du Toit's Farm, just down the road from school, as part of our farm theme. The children have spent the term learning about the animals we find on the farm, the equipment farmers use and what crops are grown. There is no better way to continue learning and solidify previous learning than to be on a real farm. The children absolutely loved this outing and they do look forward to it every year.
A few of the children have shared what their highlight of the day was:
I enjoyed playing games with my friends and teachers. The juice we drank helped me cool down from all the running around the yard. – Akalondiwe, Grade R
Learning about the Springbok was super cool. I now know that they run very fast and jump really high. I think they jump higher than our jungle gym at school. We tried to count them but they were too fast – Lwazi, grade R
We rode on a big trailer to go and see the Springbok. That was great fun! – Obanzi, Grade RRR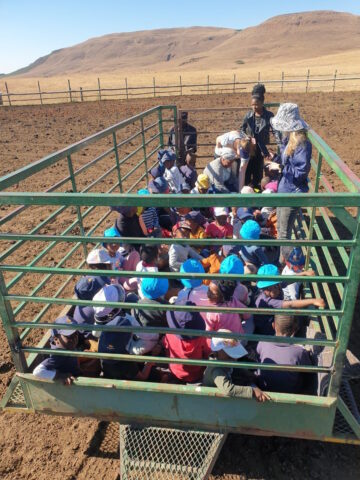 My highlight of the day was seeing the cows. There was a mummy cow that nearly ran Malume over because she thought he was going to take her baby away. I learnt that mommy cows are very protective of their babies; just like my gran. – Khwezi, Grade R
We played a game where we had to feed a pretend puppy. It was a challenge having to keep my hand steady so the food did not spill from the spoon. I had great fun! – Ziyanda, Grade RR
The boerewors rolls and magwinyas were delicious! – Tebogo, Grade R
The food was delicious and we sang Old MacDonald Had a Farm when we were riding on the tractor around the yard. – Ntando, Grade RRR
I was hoping we would ride the horses on the farm. The Malume said they were feeling a bit unwell so we could not ride them just like how we did last year. – Ali, Grade RR
We went on an adventure ride, with Hlelo and Yamu, using the small green tractor. – Usenathi, Grade RR
We drove on Mkhulu Johan's big bakkie that had a trailer and comfortable blankets for us to sit on. Sis Promise took us to see the Springbok on it. I was hoping we would catch one but they jumped too high! – Okuhle, Grade RR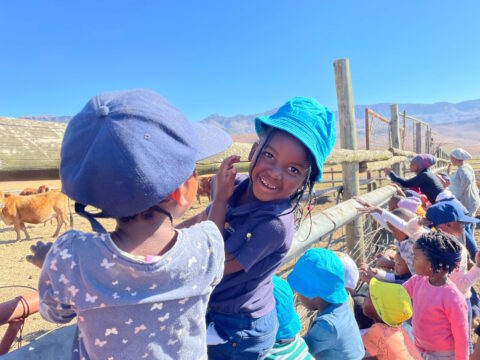 ---
Creating creative entrepreneurs – Mich Albertyn
The children at the Royal Drakensberg Primary School spend an hour each week in Economic Management Sciences where they learn skills to help them become savvy entrepreneurs in the future.
We start off each project by making a mock-up of the product we would like to sell, to ensure we are all on the same page. Thereafter we cost the product (with help of teachers) to see if we will still make a profit off our hard work. And then the fun starts!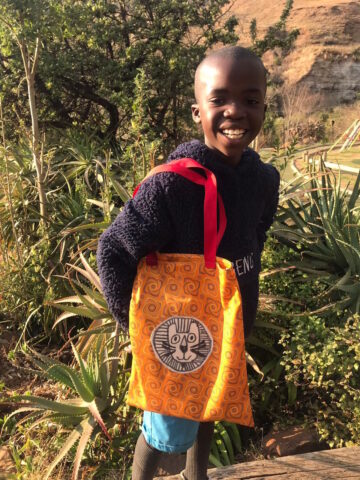 It is fantastic to see how business savvy our precious ones already are and how dedicated and focused they are to create high quality merchandise.
The products that result from EMS are normally sold at the Cavern Gift Shop to raise money for the school. We, as teachers, like to track our sales at The Cavern and report back on what items are fast sellers and discuss why we think so as a class. It gives them insight into our buyers' market and their preferences, crafting an analytical skillset that will definitively be of help in the future.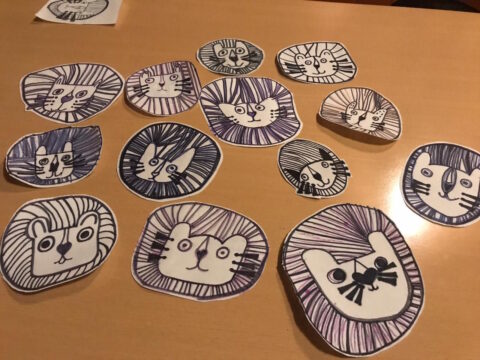 We were very fortunate to receive our first custom order from Mooney Ford Attorneys to make 45 custom tote bags for their Women's Day Tea. For the first time our entrepreneurs had the challenge of working with a 'real' client with requirements and a serious deadline. All of a sudden, our team work and time management skills were put to the test!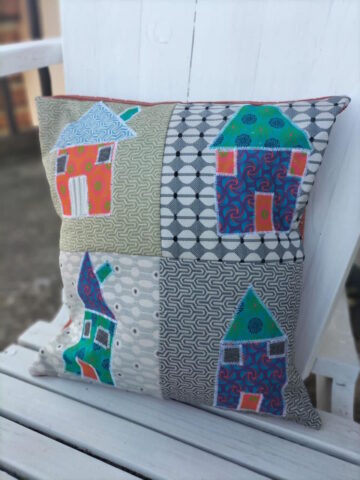 Our young entrepreneurs rose to the challenge and delivered a product of fantastic quality with an abundance of creativity. We are so proud of them! We hope this is the start of receiving many more custom orders. If you would like to watch our product video with Behind-the-Scenes footage of our entrepreneurs at work, please follow the link below.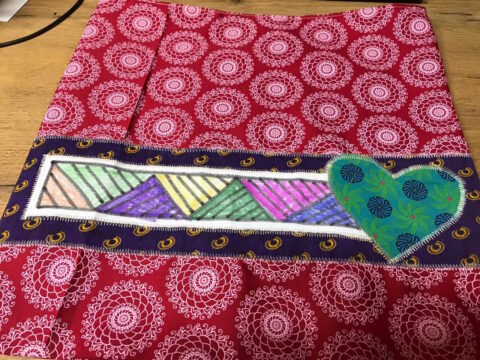 ---
Teacher corner with Hanelie Van Der Spuy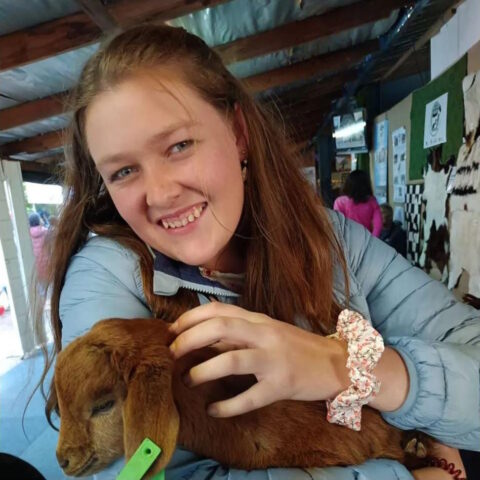 Miss Hana joined us as a volunteer to decide if teaching was the career for her and now she is an intern on the RDPS team. She adds so much value to both the preschool and primary school while studying for her foundation phase degree. I spent some time getting to know here better and these are a few of those insights;
Use an adjective to describe yourself?
Thoughtful.
What super power would you like to have?
I would love to have the ability to read minds.
If you could change one thing in society what would it be?
If I had the opportunity to be able to change one thing about society it would be to change people's negative mindsets about themselves and others creating a better life for everyone.
What where the last two books that you read?
James Patterson 11th hour and James Patterson 12th of never
Who is your favourite music artist?
Morgan Wallen.
What is one thing you remember from your childhood?
Christmas is one of the things I remember really well from my childhood, because every year for Christmas all our close family friends and family would come together in one location and spend time cooking, playing games, chatting and spending quality time together. It will always be my favourite times of the year as well as some of my most treasured memories.
What is the hardest thing you have ever experienced in life?
Some of the hardest things that I have every experienced in my life would be during my grade 10 to grade 12 years of schooling. In my grade 10 year I spent 4 months in hospital having test after test to find out what was wrong with me and 1 month at home recovering. It was the most pain I have ever been through, as well as the scariest time, as I had no idea what was happening to me. In grade 11 I spent most of my time at home because of Covid. Then in my matric year, the whole country had to go into lockdown because of the looting, and we had to wait at home, watching the news and waiting for the school's email to tell when we could return to school. The most difficult thing I have experienced recently would be the death of one of the most important people in my life.
If you could be fluent in any other language which one would it be and why?
I would love to be fluent in isiZulu to be able to communicate and understand more people and learn another one of my country's languages.
Is there any crazy outdoor challenge or activities that you would love to try out one day?
I would need a lot of courage to be able to do these activities but I would absolutely love the opportunity to be able to go bungee jumping or sky diving.
Would you rather have a photographic memory or the ability to forget anything you want?
I would choose having a photographic memory. All the things I would like to forget has helped me become the person I am today.
---
Changing the world one child at a time! – Cait Gordon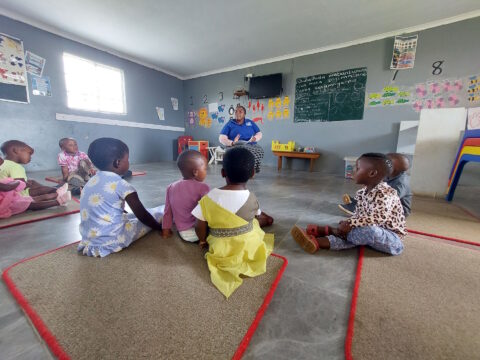 In a world where life can be really tough for some, it is so incredibly special to be part of something that helps build our community and children, our future leaders. Through the Khanyisela Project we have implemented a program that aids the teachers in the creches with a plan to help improve the quality of education and we help purchase educational toys to make this possible.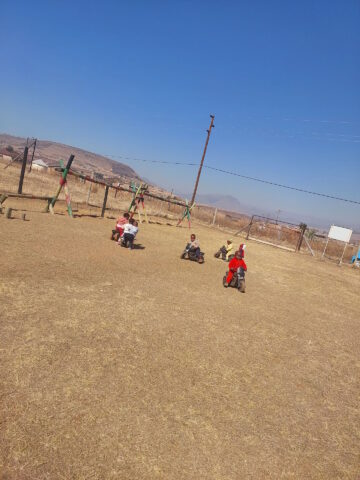 In less than two years we have seen amazing improvements in these creches where this program has been implemented. It enables the teachers to feel a sense of immense pride and to celebrate what they are capable of achieving with some help from those around them. Possibly the biggest result is the happiness of the children, developing an absolute love for school and excitement for what each day might hold.
This would not be possible without the hours of work and brain storming of the RDPS teachers involved as well as the donations from the DG Murray Trust in order to purchase the toys needed to make this program a success.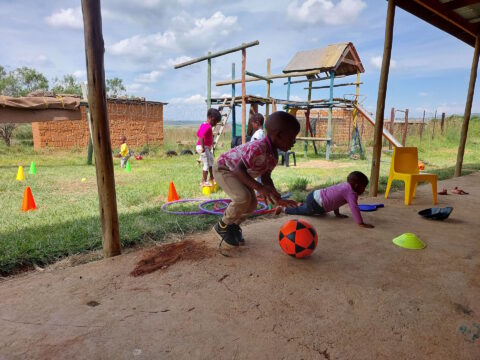 The future belongs to those who have been lucky enough to receive a quality education and the hope is to create a space where this the norm for all the children in the very special AmaZizi community.
We look forward to watching this program grow, changing the world one child at a time!