Dear Friends
Another year draws to an end. We are not quite out of the Covid woods but we are so pleased that we have had such a positive term. It all ended with the "Twelve Days of Christmas" which was the most precious production and the children were delightful. Our teachers share more news.
---
Grade 3 Campout – Cait Gordon
On the 26th of October the Grade 3s left on a very exiting two night sleepover camping experience in the mountains surrounding the school.
We began the day by learning how to pack our bags, plan our meals and make space in our packs for all that we needed for night one. We headed off into the Fern Forest where we stopped for lunch before finding a good place to set up camp and began putting up our tents, learning all new and exciting skills. We spent the afternoon collecting firewood, learning how to start a fire with wet wood and enjoying each other's company as we made a delicious chicken stew and pot bread.
We woke up on day two to a chilly wet forest and 8 excited children, waiting to see what the day had in store for us! We enjoyed a lovely cup of warm milo before breakfast and taking down our tents, getting ready for the hike up the mountain to the Cannibal Cavern. These children showed their resilience and determination on this long and at times tricky 4km hike up the mountain to the cave where we would spend our next night out.
We welcomed some downtime as there were no tents to set up and this gave us the opportunity to explore all that was in the cave. Dinner time came and we used the skills we had learnt to make a fire and cooked our wors for some well-earned wors rolls and braaied marshmallows for dessert. We fell asleep looking out into the moonlit cave, an experience of a lifetime.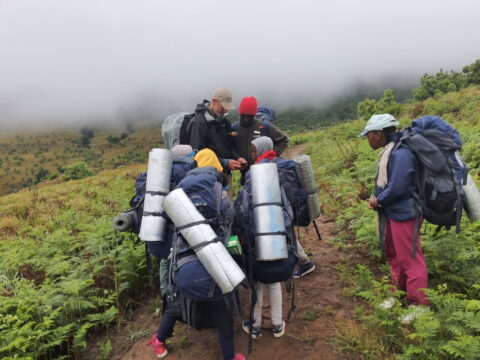 Day three began with the sun, wide awake and ready to go. A cup of milo and porridge to get the fuel needed to make it down the mountain again, negotiating the slippery rocks from the rain in the night. We made our way down the mountain stopping to learn all about the plants, animals and facts about the area as we made our way back to school.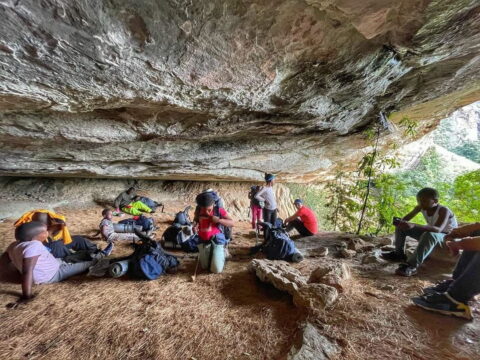 We arrived back at school exhausted, a little smelly but ready to enjoy our delicious lunch of fresh baked bread and jam. It was an absolutely amazing experience that taught us many things including going to the toilet in the bush, bathing in chilly streams and many other valuable skills that we will all keep with us.
We would like to say a huge thank you to Lee Fuller from Lee Fuller Safaris for his wonderful camp and the experience he has given to these children and to the Cavern Resort for keeping us fed and fuelled on this journey as well as the company of their wonderful guide Sandile.
This is an experience that will never be forgotten and I, as their teacher, am extremely grateful for having this opportunity to spend this time with them before they head off on their new journey as they finish at Royal Drakensberg Primary School.
---
The Preschool Presents "The Twelve Days of Christmas" – Nikiwe Ngcboo

We have reached the end of the year This has been a busy and exciting year with lots of fun being had in preparation for the much anticipated nativity play for our Grade RRR, RR and R little people who make our preschool such a joyful place to be.
The play takes us on a journey through the 12 days of Christmas with a modern twist creating a fun play with lots of smiles and laughter from the actors and audience alike. We see the arrival of Jesus through the eyes of Mary, Joseph, the wise men, the innkeepers, the shepherds, the angels, King Herod and his guards, all the animals in the barn and all the other people and animals met along the way.

"On the first day of Christmas the angels gave to me… an unplanned pregnancy" an opening line that got the audience laughing and the children ready to perform, and perform they did. These little people gave their all and can be very proud of the show they put on.

This wouldn't be possible without the wonderful effort put in by teachers and parents making sure that our little people knew their play lines word for word. This play was very important and taught the children about how Jesus was born and the story surrounding his arrival, but it also helped them gain confidence and improve their communication skills by standing and talking aloud in front of the audience. We would to thank all those involved in making this happen with special mention to The Cavern Resort for giving us a space to perform, a lovely dinner to fuel the performers and delicious eats and tea for the parents to celebrate their children after the show.
---

amaZizi Reads – Britt Houghting
During this term, the Royal Drakensberg Primary School teachers have been sharing their passion and love of reading with the wider amaZizi community. Once a week, the teachers have set off with books to read to children at the Siqalakahle Crèche in the afternoon.
The reading group has proven to be a success with the numbers growing to over 50 children by the last session. The teachers read in both English and isiZulu to give the children as much exposure to language as possible. Singing songs is also included as this helps the children to build their English vocabularies. The sessions are enjoyed greatly and fun is had by both the children and the teachers.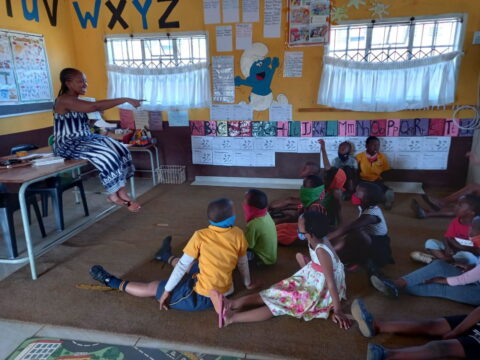 Reading is an important and valuable skill for all children. Sharing stories helps build strong bonds, which allows for open conversations. Reading together stimulates thinking and language and creates opportunities to discuss feelings and outcomes. It grows skills that will take them further in life and it opens doors and provides opportunities. Reading builds the imagination and grows confidence as they begin to interact with different languages. We learn to read so that we can read to learn.

During these sessions, the children have also received BookDash books to take home with them. These stories are then shared with their friends and builds each child's home libraries and develops the love for reading. The RDPS team have enjoyed sharing their gifts with the community and are looking forward to continuing to share in the New Year.
---
To the grade 3 class of 2021 – Cait Gordon
We bid farewell to our Grade 3s as they finish their journey at RDPS. It is a bitter-sweet moment for students and teachers alike as we look at these amazing and capable children taking on the next chapter in their school career who will be missed by all those they leave behind. We took some time to look back on their time here at Royal Drakensberg Primary School and here is what they have to say:
My favourite moment:
"Going to the cave with Miss Cait" – Siphokuhle
"Going to the fern forest and Cannibal Cavern and camping for 2 nights" – Lethukuthula
Memories I will treasure:
"Miss Cait and her cuddly hugs" – Noluthando
"I will remember playing soccer with my friends on the field" – Yamukela
What I loved most about this year:
"I loved getting to play every day" – Awande
"I loved going swimming and learning new things" – Mvelo
We wish them well as they take on the new adventure and remind them that we will always have a special place for them here at Royal Drakensberg Primary School.
---
Final Word
Seasons change, worries remain but if we can focus on the good we somehow seem to manage. We are incredibly grateful to the RDPS team that has grown and supported our work in education in the greater region. It has been busy but productive and slowly we are creating ripples of change. How exciting to start community reading afternoons with just a few children and to end off with more than 50! To our supporters who continue to ensure that we can do this work, thank you!
We wish you peace for the season, love within the home and prosperity in the days ahead.
Our best wishes,
Megan & Loretta