Dear Friends
It has been a busy end to the year and we have much to share. Snippets of our happenings appear below:
---
Bubbly and Roses Festival 2017 – Kevin Mackenzie
The Mackenzie family once again hosted the Bubbly and Roses event in the Midlands. The weather played its part and as usual we had all four seasons in one day. Paula Mackenzie summed up the day simply in that each person who attended was making a dream come true for one special child who could then attend Royal Drakensberg Primary School. The family's garden was opened to the public for the event in order to raise funds for the school. With the participation of 17 wine farms, the Vinimark staff and the RDP teachers the day was a fantastic success. It was a spectacular day out and fun was had by all. The event helped to raise just over R 45,000.00.
---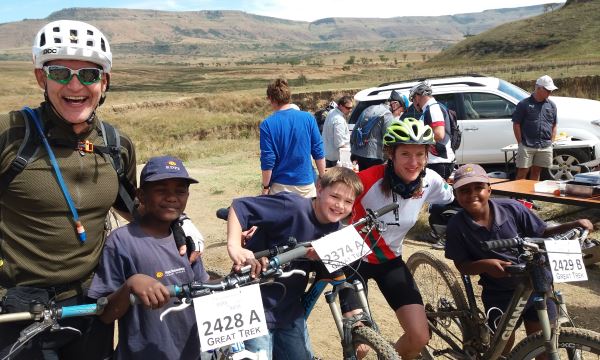 The Berg & Bush Great Trek Water Table – Words Grade 5 children
The grade 5 class hosted the Nondela water table for the Great Trek cycle ride on 11 October. There were a few hundred weary cyclists who were most grateful for the refreshments at this very windy point. With the help of parents and friends we prepared a selection of delicious refreshments for the riders, who were very friendly and appreciative. We also provided a bike repair team who offered lubricant for chains and basic help to riders with bike problems. Our biggest challenge was how to get 2000 litres of water to the remote site. Luckily a farmer from nearby lent us his tractor and water tank!
As a result of this event we are able to purchase 2 new computers for the grade 4 and 5 classroom.
---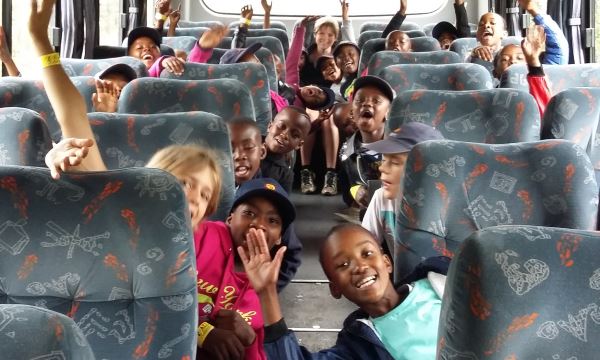 A Trip to Durban – May Campbell
On Wednesday, 2 November, a big bus arrived at Royal Drakensberg Primary School and the excitement for the grade 1 – 3 learners began! We spent the first afternoon in Durban at Mitchell Park, where the children saw many interesting animals and birds. The highlights here were the magnificent peacock, who kindly displayed his tail-feathers for our children, and the giant tortoise that is over 100 years old. Spur at the Gallaria kindly sponsored a meal for each child, so the children were given the opportunity of eating in a restaurant.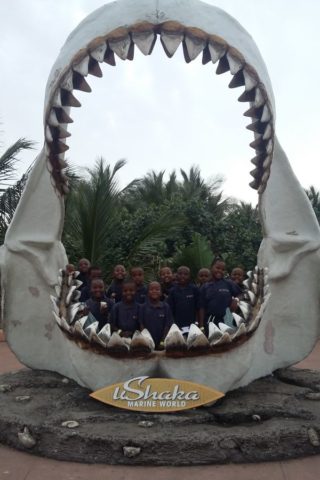 Thursday was the day that everyone was looking forward to. We jumped on the bus early in the morning and headed to uShaka Marine World. We were given a guided tour around the aquarium by a very professional and informative guide. The children looked at the various sea creatures in awe and wonder. We also went to the dolphin show which was definitely a highlight of the trip. The teachers will never forget the children's faces when the dolphins jumped out of the water for the first time. That afternoon, we split the children into groups and with the help of volunteers, were able to play at uShaka's Wet 'n Wild.
On Friday we spent the morning on the beach. It was beautiful to watch the children play in the sand, digging dams and building sand castles. They also swam in the sea, many for the first time! Jumping over waves and rolling in the water; playing with friends and making sand angels; feeling the power of the ocean and looking for shells – these are just some of the day's highlights.
This was an amazing experience for both the children and the teachers – something that will stay with us all forever
---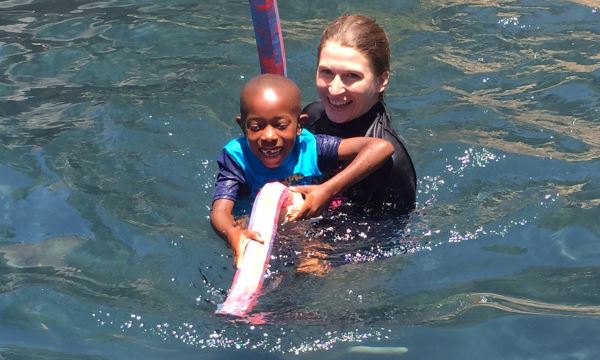 Our Swimming Gala – Judy Evans
On Monday, 28 November, RDP held their first ever swimming gala. It was a hot and sunny day, and the children came to school excited to show off their swimming skills. Each child participated in two fun races displaying what they had learnt throughout the year. Some children raced across the pool on swimming boards others scrambled to collect corks while others swam a width unaided. This was an inter-house gala with each race earning points for their house. In the end it was a very close win by Duiker with just 5 points ahead of Bushbuck. To end off this fun day of swimming after the gala the children were all treated to an ice cream cone.
---
The Nativity Play – Melanie Roux
The Hippos, Zebras and Meerkat classes of RDP celebrated and learnt about Christmas in a special way this year. The story was set straight and the children explained exactly what happened on the day Jesus was born. The hall was filled with parents and Cavern guests. We had storytellers, Mary, Joseph, shepherds, innkeepers, beautiful angels, three wise kings, little animals and the special star.
Each child really got into character and spoke clearly and loudly when it was their turn to say their words. Instruments such as recorders, triangles and shakers were used. They learnt difficult songs and sounded like a choir of angels on the night of the play. At the end parents applauded proudly. Very well done to all involved.
---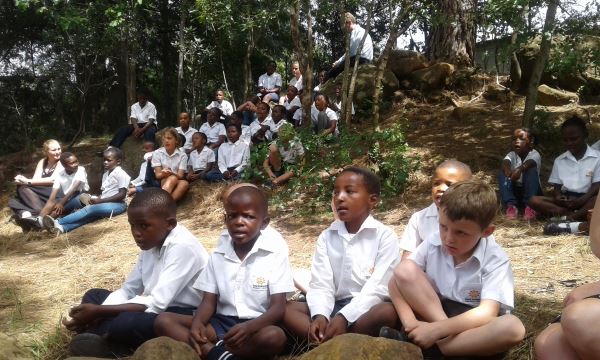 Prize Giving – Idah Kumalo and Marianne Hohls
Wednesday, 7 November 2016: the day all the children were eagerly waiting for – it was the very last day of school for the year. It was also the day of our school Prize Giving.
The children arrived at school dressed in their smartest and neatest school uniform, eager to have their parents hear about their achievements.
The Prize Giving was held outside in the shade of some Pine trees. There were many parents who arrived to show their support of their children.
The event started with a bible reading and continued with a motivational talk presented by Menzi Ndlela – who encouraged the children to always be kind, respectful and to remember that wherever they go and whatever they do, they should always give it their all.
Each and every child received a personalised certificate which highlighted their strengths and special skills. There were some tears shed as we bid farewell to this year's grade 5 learners and three of our teachers.
The prize giving ended with the children singing a lovely rendition of "Oh come, All Ye Faithful" followed by some delicious treats, as well as some tea and chilled water.
---
Farewell to those departing – Sue Kraupner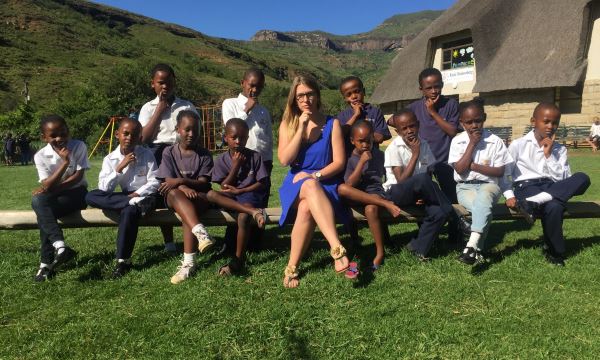 Grade 2 Teacher – Marianne Holhs
I have worked closely with Marianne since 2014, during which time she has taught our grade 2 class. She displays a high degree of integrity and responsibility at all times and has a passion for children and their education. She is a team player who works independently and extremely competently and efficiently in a school environment. She is a sincere, honest and cheerful lady who has been an asset to the staff at our school.
Her kind spirit, organisation skills, and willingness to help others and flexibility in all matters are pronounced and needless to say, professional.
Maz is a passionate educator and the children warm naturally to her as they know their boundaries and feel at ease and secure in her company. I wish Maz well and a happy time at Harriston in 2017!
---
Grade 1 Teacher – May Campbell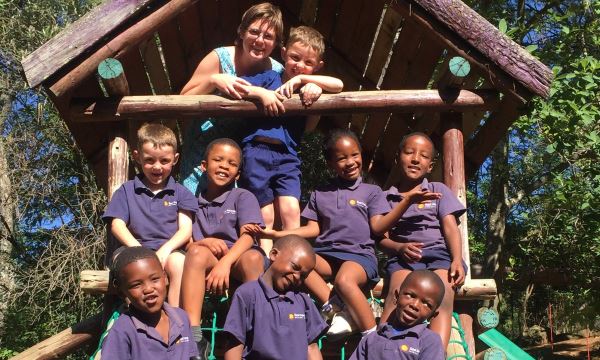 May joined our staff at the beginning of 2016 and has taught our grade1 class. She has displayed a high degree of responsibility and has a passion for children, their education and well-being.
May has a solution based mind-set and has shown tenacity when she decides to implement a project. She has taken initiative with organising a three day outing for our grade 1-3 pupils and has tirelessly structured the fundraising and planning for this event. I wish you well in the future May!
---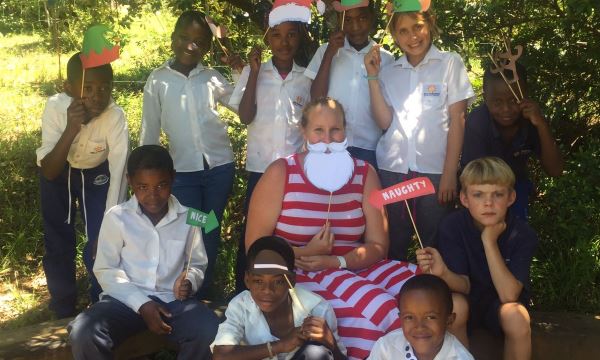 Grade 3 Teacher – Judy Evans
Judy is a highly motivated and enthusiastic educator, who is passionate about her profession. She relates easily to the learners and always finds a good solution to any challenge. She displays a high degree of integrity, responsibility and self-motivation as well as being a dependable team player.
She has introduced magnificent art projects for children of all ages at our school.
Judy has been a true example in adopting our core values of kindness, integrity, respect and work. I wish you well in Hillcrest next year Judes!
---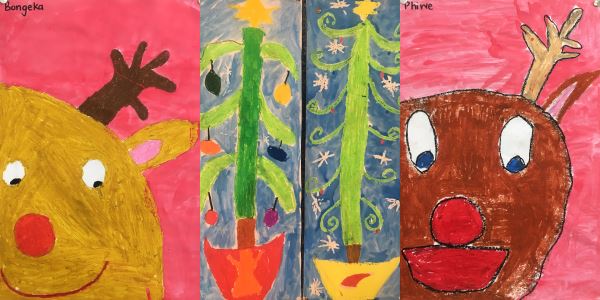 A Final Word
Another year ends, another will begin. Teachers remain, while others move on. Children progress to the next level and some transfer to new schools. It has been a 10 year journey and now all our own children are at Boarding School a little further afield. But, we see the tremendous importance of working to make a real future for other children and remain committed to seeing our school grow. We look forward to welcoming our new teachers in 2017 and as we celebrate our 10th birthday we know that early intervention and hard work definitely do result in building a stronger nation.
We wish you all a merry Christmas time and we look forward to a positive start in January 2017.
With love and best wishes,
Megan & Loretta